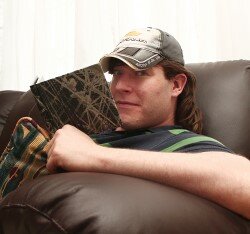 Obituary of Attila John Pasztor
It is with great sadness that the family of Attila John Pasztor announces his passing at home on May 16th at the age of 44.
Attila was the beloved son of John and Elizabeth Pasztor, brother and brother-in-law to Jessica Luiting (Pasztor) and Rick Luiting. He was also very much loved and adored by his nieces, Kaitlyn and Clara Luiting. He will be greatly missed at Mr. Transmission where he was a skilled transmission mechanic who loved his job there. A special thank you to his boss and friend Mark Chinnery who treated Attila like a part of his family.
Attila will be immensely missed by his family and many friends. He had a larger-than-life personality and treated everyone with kindness and love. He made friends everywhere he went. He had an infectious laugh and a unique sense of humour that we will never forget. He was smart, inventive and curious from the time he was very young. He was always taking apart motors or anything with gears and putting them back together to make them work. He used to enjoy flying planes, listening to classic rock and collecting many records. He always had an interesting story for any occasion. He was also a gentle soul and had a deep love for his pets.

Cremation has taken place. Arrangements entrusted to the Shawn Jackson Funeral Home 31 Elgin Street, St. Thomas (519-631-0570). Private interment of ashes at a later date. A tree will be planted in his memory at a later date upon choosing a location and a plaque will be placed in the Memory Garden at Pinafore Park in St Thomas. Attila would have loved any donations if people wish to do so, to go to Animal Aide of St Thomas. Donations may be e-transferred to animalaidestthomas@gmail.com as well as dropping by the center at 333 Talbot Street in St Thomas. Any donations would be greatly appreciated. Personal condolences to the family can be made at www.sjfh.ca
Share Your Memory of
Attila