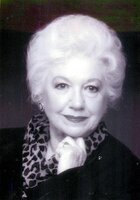 Paulina McCormick
In the early morning hours of Wednesday, September 7, 2022, Edna "Paulina" McCormick departed from the loving arms of her family into the arms of her Heavenly Father. Born in Port Stanley on March 21, 1925 to her parents Bert and Edna (Goodhue) Speers, Paulina was the youngest of four children. Predeceased by her siblings and their spouses, Joe Speers (Margie), Garnet Speers (Georgie) and Kathryn Grice (Reid). Predeceased by her brother and sisters-in-law, Hilda Mickle (Bill), Phyllis Sussex (Robert), and Andy McCormick (Maria).
Predeceased by her loving, doting husband of 59 years, Harold McCormick (August 2007).
Dearly loved Mother of Barbara McCormick of Wasaga Beach, ON, predeceased by sons Jim McCormick (August 2021) and Bill McCormick (June 2005).
An incredible Grandmother to Jill Trethewey Lee (Michael) of Chatham, ON, and Julie Harvey (Mark) of St Thomas, ON. Paulina was a proud Grandma Grape "GG" to Coen and Griffin Lee, and Alexandra, Sophie, and Rachel Harvey.
Paulina was a beautiful woman with an equally beautiful heart. She had a formidable spirit that was inspiring and a positive energy that was contagious. Nothing stopped Paulina! As a young woman dancing her heart away at the Stork Club, to selling Mary Kay Cosmetics, to attending live theatre with her special friend Bernie Jackson, and being an active member of St. John's Presbyterian Church, she gathered no moss!
She was a Registered Practical Nurse in Hamilton, St. Thomas, and Extendicare in Port Stanley, owner of Paulina's Place Clothing Store in Port Stanley, a Real Estate Agent at Canada Trust Real Estate in London and Niagara Falls, and an Elder at St. John's Presbyterian Church, Port Stanley.
Everything that Paulina embarked upon involved people-she loved people. She especially loved to help people find their full potential in body, mind and spirit. She would take in children and adults to care for them after unfortunate situations, she had a listening ear and caring heart for everyone, she sponsored those struggling with addictions. She shared her faith in Jesus by being a true example of His love, acceptance, and kindness through prayer, meals, phone calls and letters of encouragement.
She will be missed, but will live on in the memories of those that love her.
A celebration of Paulina's life is planned for Saturday, September 17th at 12:00pm at Shawn Jackson Funeral Home, 31 Elgin Street, St. Thomas, ON (519-631-0570). Donations in remembrance of Paulina can be made to Sara Vista Long Term Care Home Resident's Activity Fund, Teen Challenge Canada, or St John's Presbyterian Church Mission Fund. Personal condolences to the family can be made at www.sjfh.ca